Camp Founder
Father, Grandfather, Coach, Friend, Circus Performer, Supporter of Gymnastics and Dunkley Camp Founder:
Tom Dunkley had a passion for physical activity and a love for conservation and the environment. He also had a love for the sport of gymnastics, and in 1973 Tom incorporated all of these into the creation of "Dunkleys Gymnastics Camp!" His legacy will live on as 1st and 2nd generations of the Dunkley Family strive to instill his values:
The joy of meeting a challenge,
The importance of living in harmony with the lake and the land,
Helping campers grow in self confidence and self esteem,
Striving for improvement and then excellence in gymnastics (in all,)
Honoring friendships,
Encouraging leadership skills,
The forever impact of the summer camp experience!
Committment to faith and family
Highlights of the life of Vermont's Father of Gymnastics & Dunkley Camp Founder:
1944
US Air Force Eastern Flying Training Command Boxing Champ
1946
Competed in Olympic Gymnastic Trials at Penn State
1949
Captained the Springfield College Gymnastic Team and Traveling Exhibition Team
1953
Organized and directed circus clubs in New Jersey, taught PE, Masters at Rutgers
1956
With daughters, Ruth and Debbie, performed in professional trampoline act in Washington DC for President Eisenhower and Saudi Arabia's King Saud
1957
Command performance for King Saud, the royal family and middle eastern dignitaries in Saudi Arabia
1966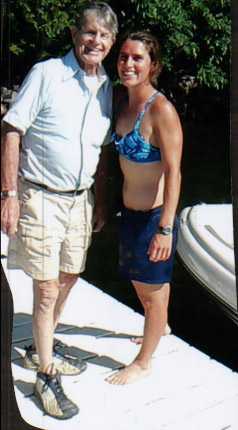 Created and coached the University of Vermont's 1st Men's Gymnastics Team
1967
Gave workshops on progressions, coaching and safety in gymnastics and initiated the VT Headmasters sanctioning High School Competitions; he directed the first VT HS State meet
1968
Organized and coached Burlington International Games Gymnastics Teams for Burlington, VT (undefeated vs. Burlington, Ontario Canada for 10 years)
1969
Received the Gymnastic Research Award form the National Association of College Gymnastic Coaches
1970
Organized and directed the UVM PE Teacher Saturday AM Training
1971
Created and directed the UVM Summer Adventure Day Camp
1973
Bought land in South Hero, VT and created VT's First Residential Gymnastics camp: Dunkley's Gymnastics Camp, with daughters Ruth and Debbie (Springfield College National Champs 70, 71, 72) as Directors/Coaches
1977
Joined forces with daughter Ruth and husband Dan to create Vermont's 1st full time gymnastics club: Dunkley's Gymnastics, with 200 Gym Tots, 500 Recreational Gymnasts and 100 Team Members
1986
Retired from the University of Vermont, Coaching and Camping to take care of his wife Doris
1990
Tom Dunkley was awarded the "Father of VT Gymnastics" by USAG VT
2010
Tom was inducted into the Springfield College Athletic Hall of Fame
2012
On his way for a bike ride with his daughters, Tom suffered a stroke and died at the age of 86. His Family hopes to honor his legacy and his leadership through future Dunkleys Gymnastics Camp Adventures!