Who We Are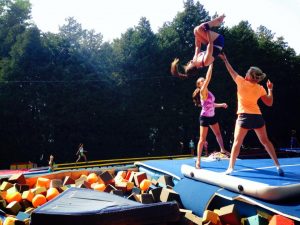 Dunkleys is a small family style, gymnastics camp. With only 50 campers per session, each gymnast is challenged, whether beginner or advanced USAG Level 9! There is a camper/counselor ratio of 5/1 or less during work out sessions. Camp offers one, two or multiple week sessions for Girls, from June 16th ~ August 16th, with 2 co-ed Weeks 5 & 6 (Special Boys Programming: Gymnastics/Ninja challenges/martial arts.) The Dunkley Camp Adventure strives to instill the values and life skills of: living simply, loving generously, caring deeply and giving fully…. with an emphasis on character building, skill building and fun!
Join Our Family of 50 Gymnasts for an adventure to treasure long after summer is gone!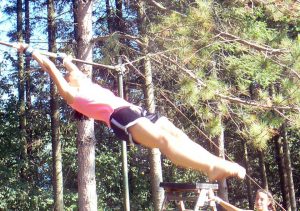 Dunkleys is a great experience for the "first time away" from home. Younger campers reside in the main lodge, with older campers in cabins on the shores of Lake Champlain. There is 24 hour supervision with "sleep in" counselors in each cabin. Our outstanding Instructional Staff is USAG Safety Certified and composed of collegiate coaches, club coaches and collegiate gymnasts. Dunkleys Waterfront Staff is Red Cross certified in Lifeguarding, first aid and CPR.
In addition to a fabulous gymnastics learning environment, Dunkleys has an incredible waterfront program with swimming, sailing, water skiing, wake boarding, tubing and kayaking. Rounding out our camper days are art classes, martial arts, dance classes, photo, culinary and wood working classes. The ending to our Dunkley Days are 'true camp activities' (treasure hunt, a camp fair, counselor/camper hunt, camp fire song night, "minute to win it," charades, casino night, "dance off,"camp auction, 'the Dunkley Camp Challenge'……..)