CIT Program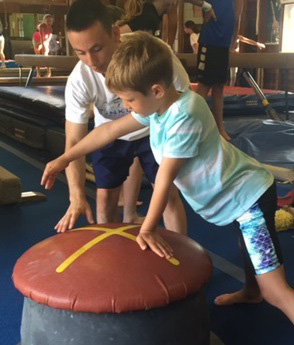 The "Counselor In Training" Program gives selected campers, with a minimum age of 15 years of age, the opportunity to gain leadership skills, learn safety and progressions and spotting in specific gymnastic levels and events under the supervision of USAG Safety Certified Gymnastics Instructors. In addition CITs are given responsibilities with younger campers and kitchen duties.
Dunkleys"CITs" have a regular 'Dunkley Morning' at camp, rotating to all Olympic Events for work out in skill ability groups. During the afternoons, CITs are encouraged to choose 3 CIT Sessions to learn about safety, progressions and spotting. CITs share the responsibilities of assisting Lodge Counselors with younger campers during rest hour, AM clean up, evening activities, and bed time. In addition, CITs meet with a mentor counselor to assist and assess their leadership progress in the different areas (including respect, empathy, good listening skills, cooperation…)
Each week CITs meet with counselors and plan a special CIT Star Night to celebrate their week's success! This wicked, awesome Dunkleysevent has included: a sunset ski and camp fire, after dinner hikes on the cut, bike rides and ice cream at Sebs, an evening shopping trip in Burlington… The Dunkley CIT Program is a valued program with ninety percent of our staff coming from the CIT and JC program. It is an excellent opportunity for further involvement with gymnastics; many CITs/JCs (Junior Counselors) have gone on to coach at clubs, High Schools and Colleges around the USA!
We look forward to working with you this summer. Please email or call with any questions about the program.